Hey everyone! Hope your week is going great! I just wanted to fill all of you in on our recent trip to Jamaica and what we have coming up!
Adam and I went to Sandals South Coast, which is a nice all inclusive resort in Jamaica. We went to Sandals St Lucia for our honeymoon about 3 years ago and just loved the Sandals experience. I would definitely recommend the Sandals Grande in St Lucia. We booked this trip to Jamaica because we haven't been away just Adam and I for awhile. After every football season we try and do a little vacation to get away, relax, and get our minds off of everything. We missed our little Asher so much but it was nice to have hubby/wife time away. Grandma and grandpa watched Ash man for the week while we were away. He loves Gma and Gpa and they are sooo great with him. Everything went well and they all survived and thankfully are healthy/ safe.
A few pics from our trip are below..enjoy:)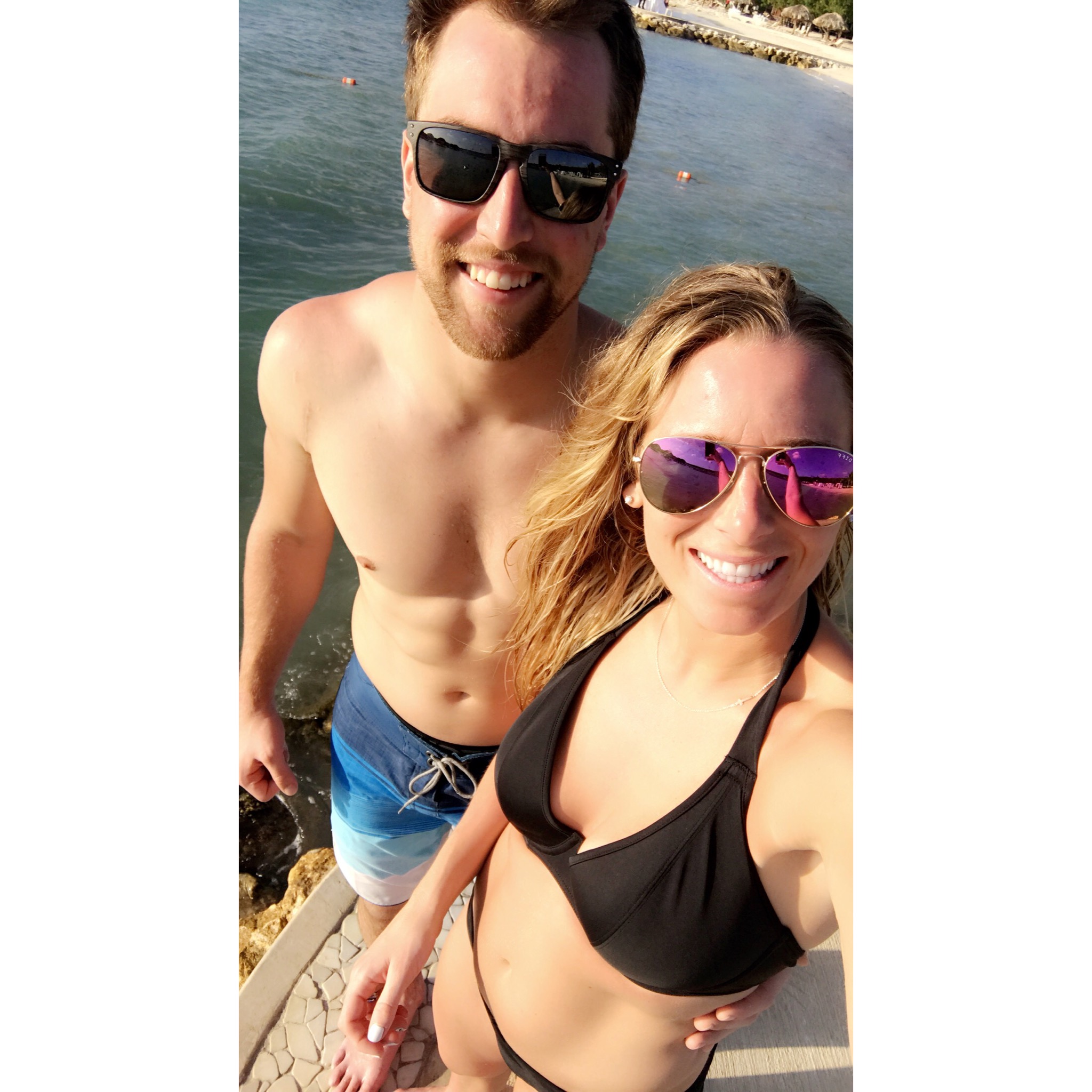 Our friends Zach & Mckenzie and Josh & Brook met us in Jamaica. Zach played here with the Vikings for his first few years in the NFL so we became close with them! He is now with the Saints and we still stay in touch. They have two little girls so it was a great little break/ vacation for them after the football season as well. Adam's best man in our wedding, Josh and his wife Brook also came to Jamaica. They have been friends ever since they were young. We have stayed close with Brook and Josh and see them often when we are in Detroit Lakes. They also have a child...an 8 month old boy, so it was nice for them to get away and relax for the week. We loved playing pool volleyball, walking along the beach, eating the pizza/ Jamaican jerk chicken, and trying out "special" drinks from the fun Sandals workers. One of my personal highlights was reading a full book lol, which I feel like I haven't done since having Asher;) Sitting on the beach, soaking up the sun and reading Karen Kingsbury..couldn't get much more relaxing and better than that. Overall it was a really fun and relaxing trip with Adam and with our friends, plus it was nice for all of us to get a break from the littles.
We sure did miss Ash man and loved getting home to him and seeing that happy face. I'm not sure how I made it a week without him...I mean look at that face:)
We are super busy in the next coming weeks. We leave again for Florida next week for our ETS Performance & Business Summit. For those who don't know, Adam and I are part owners of the ETS gyms (ETS Thielen and ETS Next Level) (I can share more about the gyms in another post)... so we have a business trip in Orlando for that. We are bringing Asher this time because we don't want to leave him again and we want to take him somewhere warm. Luckily my mom is coming with to watch him during our business meetings/ dinners! We also don't want to leave him because the weekend we get back home from Florida, Adam and I have to leave again for the weekend to go to Las Vegas. Adam was asked to be apart of the NFLPA association meetings which he is excited about. We will be gone a few days and will not be bringing Asher, sniff sniff (Adam's sister will be in town to watch him). In April we will be going to Virginia for a signing Adam has...and my brother and SIL live out there so we will try and see them too. So we have a lot of traveling coming up but it's all good things. It's busy for us even in the offseason...but that's just how life goes. I'm just trying to roll with it and keep a positive attitude. It's definitely fun to travel but in my opinion I like being home (I'm a home body;)). Plus you have to pack/unpack which I'm not a huge fan of and with traveling comes sooo much laundry, ugh! I hope you all are having a great winter and are staying safe and having some fun moments along the way. Hopefully warmer weather is on the horizon in the next few months!
xoxo,
MRS T